February 3, 2018
Yesterday I learned that "Keelie," the Rough-legged Hawk that entertained us for a couple months in late 2016, may have returned to the same location in the Keeler subdivision just east of Sequim. After failing to locate him this morning, I continued on to John Wayne Marina where I found a Great Blue Heron perched in a Madrona tree close to where I parked. It had its head tucked in at first, taking a snooze, but suddenly perked up and looked interested in something, and I snapped some pics. I turned around and saw a Bald Eagle swoop down to the beach and grab a fish head that a crow had been working on earlier. When I turned back to the heron it started preening, and scratching at its head, which always makes for interesting pictures. Then I noticed something odd about its head and really had to look closely to realize I'd seen something like this before.
---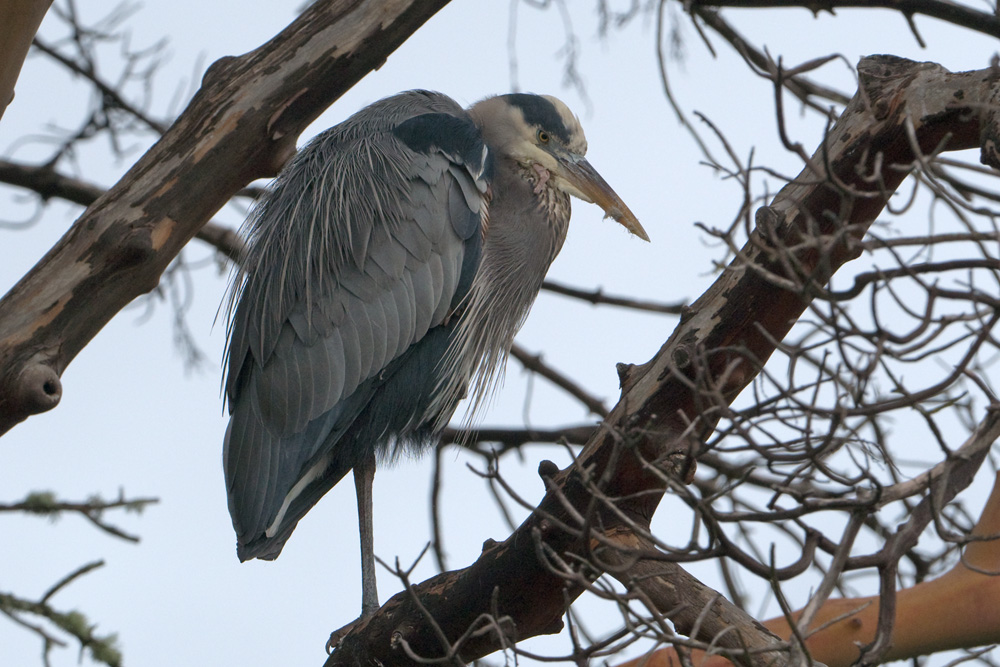 Great Blue Heron, John Wayne Marina, 2/3/2018
---
If you click the above image you will see a greatly enlarged head, and see a boomerang-shaped pink object protruding through the soft tissue below the lower mandible. In 2010 I photographed a Great Blue Heron with a similar injury, did some research, and learned a bit about the hyoid apparatus, hyoid bone, and tongue of Great Blue Herons. You can read about that experience in the Bird of the Day sidebar on the right. In that case, I finally decided the heron's tongue was protrucing through the throat below the mandibles. But I found a couple of links to images of a heron with a nearly identical protrusion to the one above. This link has the best images: http://www.birdphotographers.net/forums/showthread.php?t=55517
The next image shows the heron scratching at the injury. Having seen this condition twice here, and several reports from other areas around the country, I wonder how these injuries occur. Could it be the result of trying to swallow a fish that is too large, or is still alive and thrashing around in the throat, tearing the soft tissue? Or did a predator, eagle or owl, grab the heron by the throat and rip it open? It looks like it should be painful, but the heron reported from Florida in the above link survived at least two years there.
---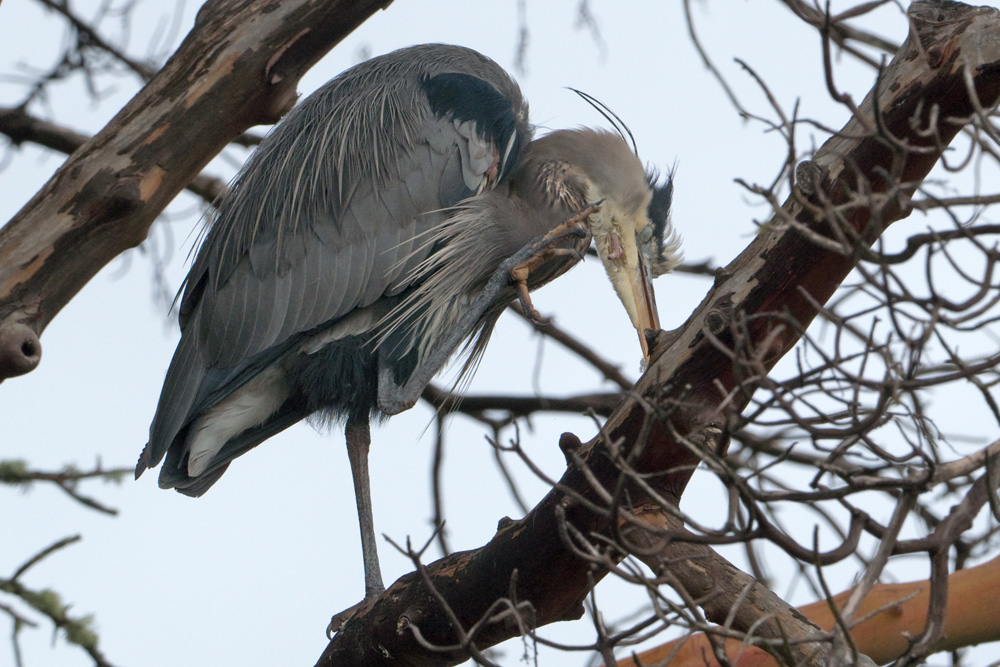 Great Blue Heron, John Wayne Marina, 2/3/2018
---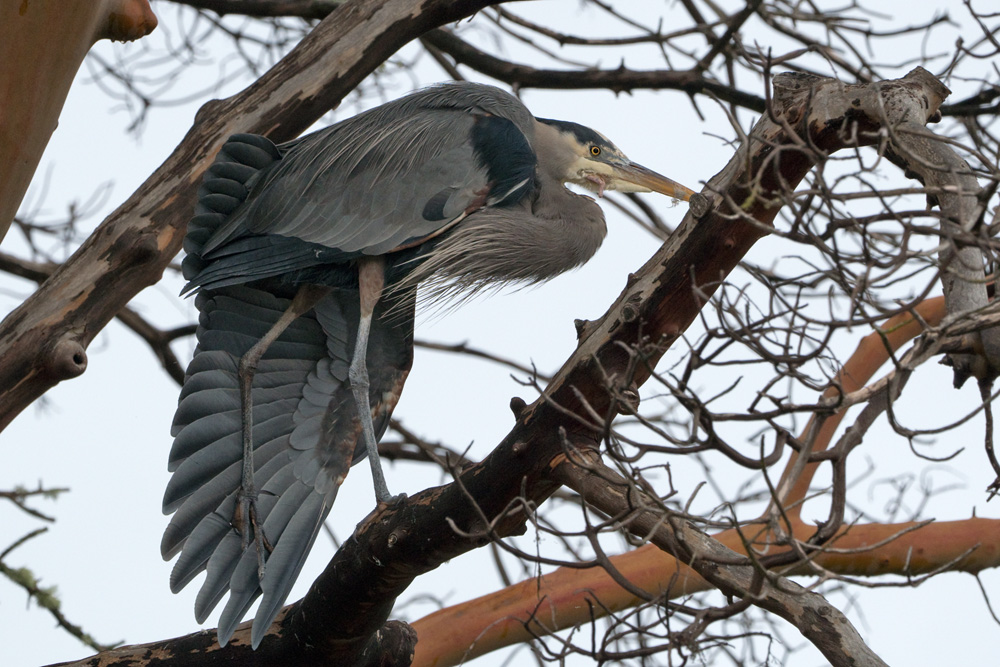 Great Blue Heron, John Wayne Marina, 2/3/2018
---
Additional research today came up with two very interesting articles on the avian tongue, both published in 2014, and both with extensive discussion of the hyoid apparatus in birds. First, from the Golden Gate Audubon Society: https://goldengateaudubon.org/wp-content/uploads/Avian-Tongues_Johnston.pdf .
The second is from Laura Erickson's blog: http://blog.lauraerickson.com/2014/12/more-about-bird-tongues-than-normal.html
---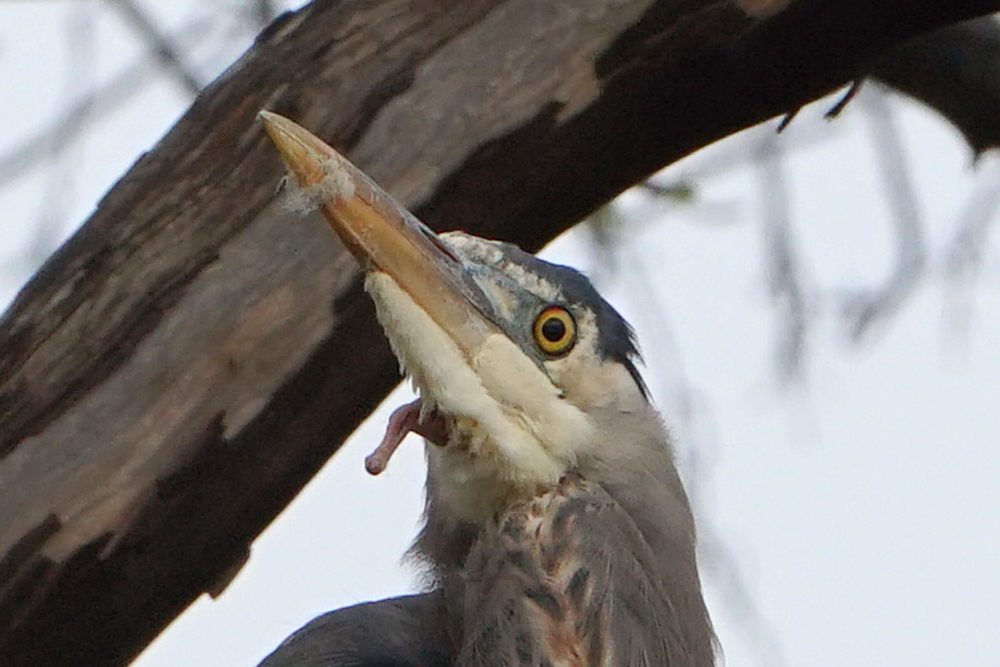 Great Blue Heron, John Wayne Marina, 2/3/2018
---