December 5, 2018
For the past week we've enjoyed watching several thousand Cackling Geese, along with three dozen Snow Geese and a few ducks, congregate in the cow pasture just west of our house. The first skeins arrive just before sunrise, with a dozen more queued up like airliners at a busy airport, and generally leave an hour after sunset. Periodically throughout the day the entire flock takes flight like a murmuration of Starlings, or a flock of Dunlin trying to evade a Peregrine Falcon, cackling loudly the whole time. Sometimes I can spot a Bald Eagle half-heartedly chasing through the flock, so I suspect the eagle is what causes all the commotion. Yesterday I decided to try to capture this Wild Kingdom moment in video at both ends of the day. (Scroll down to find the video link.)
---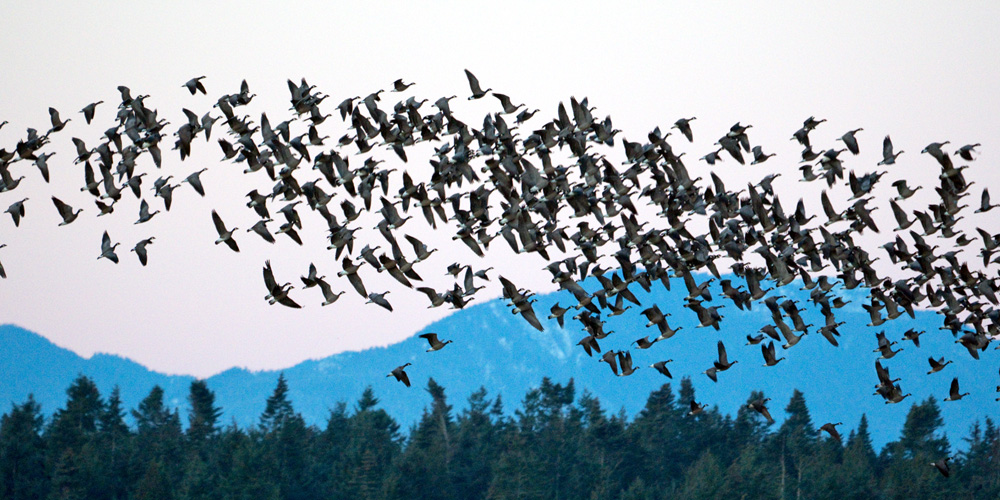 Cackling Geese over Dungeness at Thornton Drive. 12/6/2018
---
If you have Internet Explorer 10 (aka Microsoft Edge) or current versions of Chrome, Firefox, or a new iPad, you should be able to play this video. The first 75 seconds of the video were shot from my front porch about 7:30 yesterday morning. The wind was a nuisance in the morning, and I considered replacing the audio track with a recording without wind, but then we'd have lost the cool Doppler effect as the geese approached, then flew on past, turned around and did it again in the opposite direction. The next four minutes were shot just after sunset, from Cays Road looking east. You can tell from the audio level that I am much closer to the geese in the evening. One interesting thing I noticed was that each time the flock returned to the ground, the Snow Geese landed first. You can see this at the end of this section. The last 75 seconds were shot about 3:30 this afternoon from the street in front of our house. Something flushed the geese and instead of settling back down like they usually do, they flew right over me and headed east, probably to the pasture at the corner of Anderson and Clark Roads.
Click Here to play the video in your web browser (requires an HTML5-compliant web browser). When you finish, click the HOME button at the bottom left edge of the page, or click the picture of me in the upper left corner of the page, to return to this page.
If the video won't play click here to try it with your system software.
I am still trying to figure out where they spend the night. When they leave here they head east, so perhaps they are heading to the bay at 3 Crabs, or to Roberta's Pond. My friend Denny heard them flying over his place in Dungeness about 8:00 this evening, so Roberta's Pond is a good possibility. I asked Denny to count the birds in the video. He was very precise, and claims there are 2,687! Since that is a prime number, I have to give it more credibility than my brother's count of 2,893, which is not a prime number (he missed prime by 4). We all know that birds always flock in prime numbers, right?