March 14, 2020
Hormones were raging yesterday morning in the local flock of juvenile Bald Eagles, and we enjoyed many views of multiple eagles chasing each other back and forth across the face of Dungeness Bay. From our kitchen and dining room windows we watched, mesmerized, as 6-8 eagles made multiple passes through our site line. They came into view about 500 yards east of us, and moved west to about 100 yards west of us, then back out of sight to the east. This repeated a dozen times throughout the morning and early afternoon. Perhaps the wind was just right for this play time.
The action continued this morning, except now there were 8-10 Common Ravens joining the game. Eagles chased eagles and ravens; ravens chased ravens and eagles; and we continued to watch with big grins on our faces. I counted 16 birds in view at one time. When the action got close enough I attempted to capture some still shots of close interactions. Click the small images in the right column to see larger views.
I also used my cell phone to capture two minutes of video, shot through the glass in our patio door. Since I was standing next to our antique wall clock, which was loudly going 'tick' 'tock' 'tick' 'tock', I muted that track and added my own local recordings of eagles and ravens. You will hear a couple other birds in there too, including one bird that we don't have in our yard. That part of the audio track was recorded at the cemetery above the Olympic Game Farm, which is the most likely place you can go to hear and see a peacock locally.
---
---
If the above high-def video won't play in your browser, or if your Internet connection is too slow to stream the video smoothly, click here to try a lower resolution version of it with your system software.
The last time I had so much fun photographing Bald Eagles interacting was five years ago. Read on.
January 12, 2015
Returning from errands in town this morning, I made the turn onto our street and was starting the turn into my driveway when a juvenile Bald Eagle flew right over the house, followed by a second juvenile in hot pursuit. I slowly pulled into the driveway, watching the eagles and trying not to run over Dan, who was working on a project in front of the garage. Dan had his head down and didn't see the eagles. I stepped out of the car and called to him to look. Just then an adult flew over the house following the juvies. My camera was on the car seat so I grabbed it to try for a picture. One of the juvies came back towards us with the adult chasing it. I raised my camera and took five shots in 15 seconds before the eagles moved on the way they came from.
---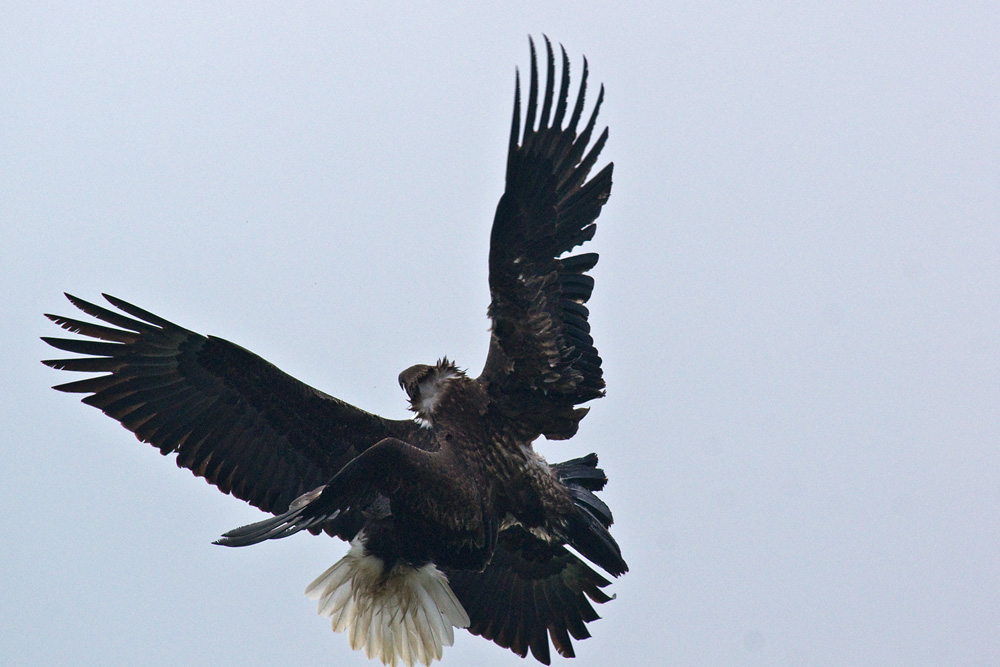 Adult and Juvenile Bald Eagles playing, Dungeness, WA. 1/12/2015
---
This action took place directly over the front yard, not more than 20' above me. The adult had the advantage of being above, and the juvie flipped over with its feet extended.
---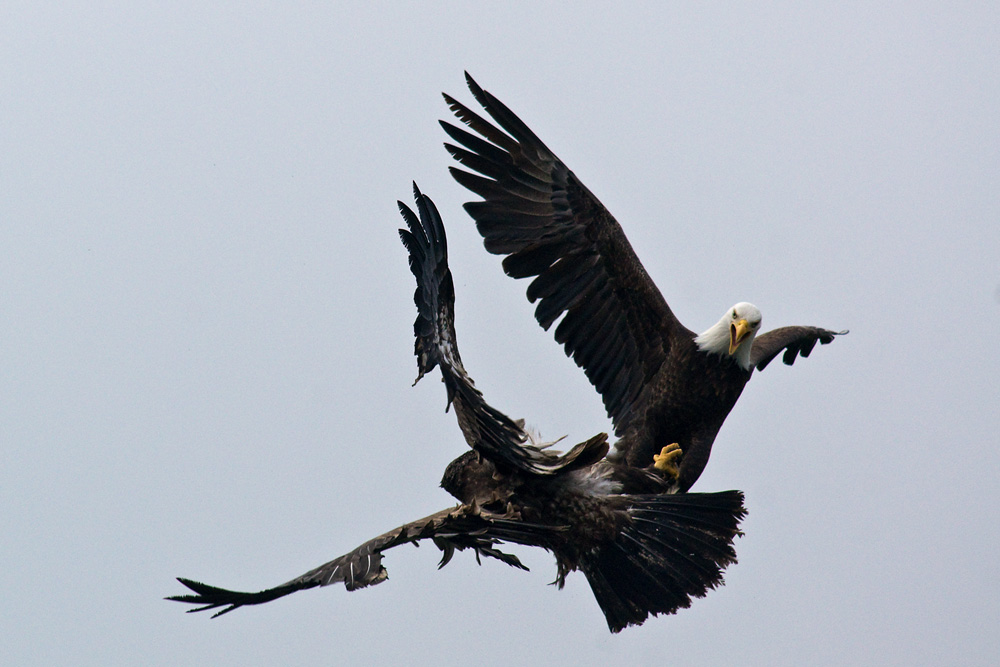 Adult and Juvenile Bald Eagles playing, Dungeness, WA. 1/12/2015
---
Each eagle grabbed the other's extended foot. Both were screaming.
---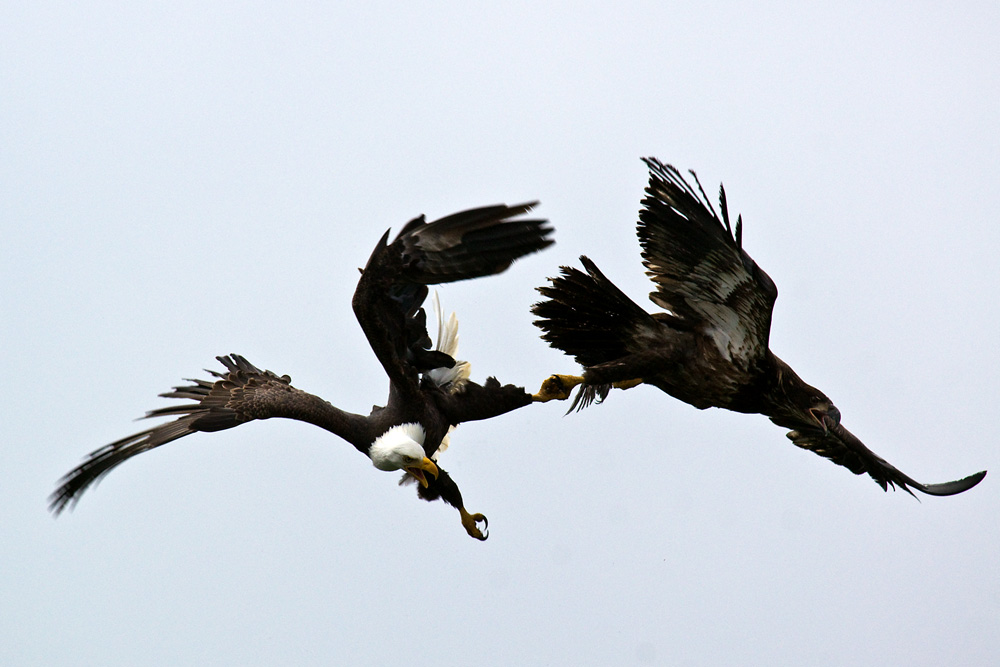 Adult and Juvenile Bald Eagles playing, Dungeness, WA. 1/12/2015
---
Still clasping feet, they spun around a couple times before releasing.
---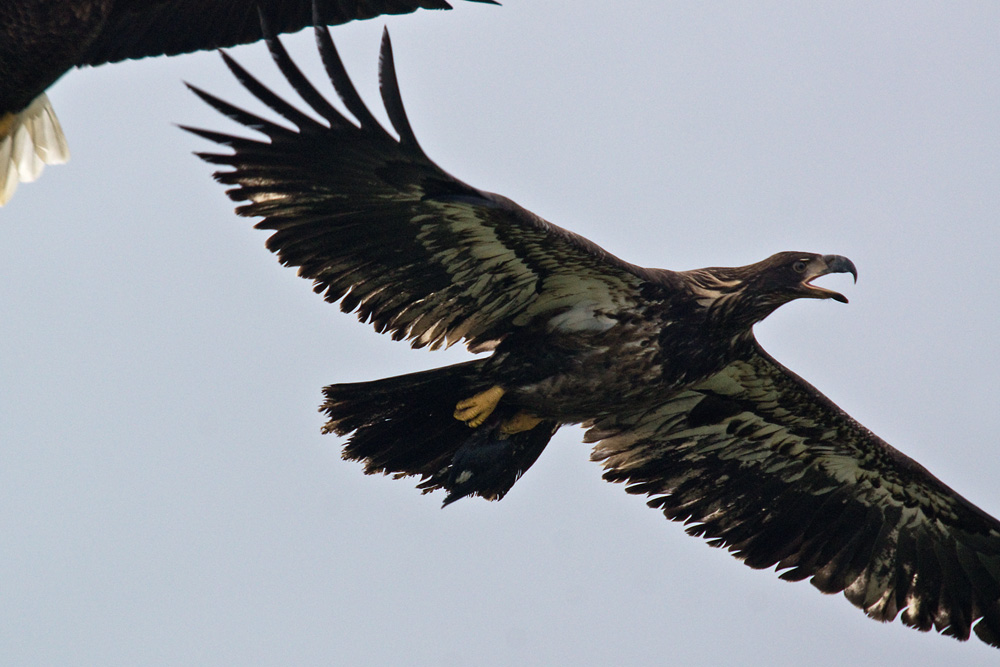 Adult and Juvenile Bald Eagles playing, Dungeness, WA. 1/12/2015
---
The juvie left, defeated, as the adult watched. I shared these photos with other local birders. We speculated that the two juvies were last summer's chicks from the nest half a mile east on Marine Drive, and the adult was a parent trying to teach the kids how to perform these aerial maneuvers.
---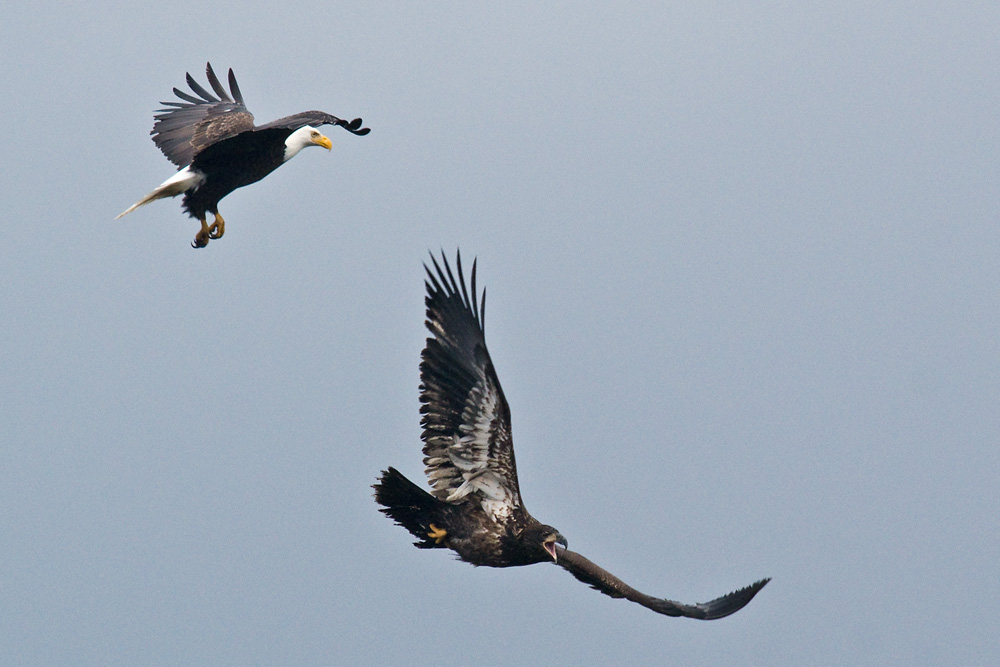 Adult and Juvenile Bald Eagles playing, Dungeness, WA. 1/12/2015
---