February 14, 2021
Happy Valentine's Day! I know the heading on this page advertises time-lapse videos, but I had fun this morning making a video of a hummingbird and it is easier to share it here than to create a new page. This is a frame grab from the video that you can find below.
---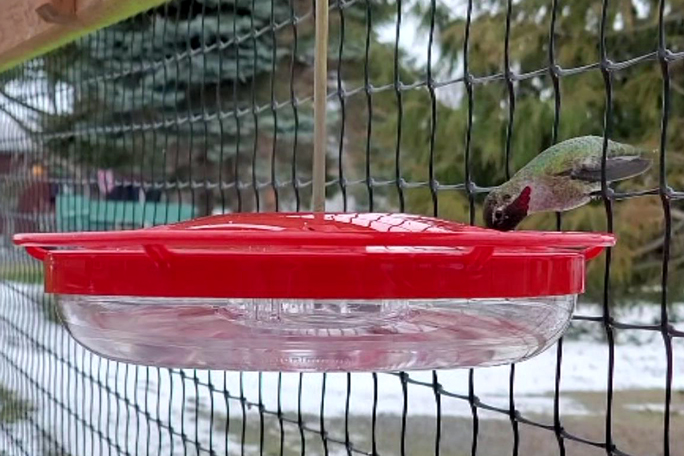 Anna's Hummingbird, 2/14/2021
---
I bring in the seed and nectar feeders at night. When I put out the hummingbird feeder in the mornings, many times a male Anna's is waiting for me. As soon as I let go of the feeder he is at it. But usually lands on the fence and pokes his beak up where the lid connects to the base (as you can see at the beginning of the video), rather than poking down through the access ports. He can't get any nectar like that. Later he comes in from the top. I've started taking my cell phone with me to try to capture video, and this morning I was lucky. I started out with slow motion, then switched to real-time.
I love the audio during slow motion, where you can easily hear his sharp chip notes and his wing beats. Slowing the audio down drops the pitch so us old folks who are losing our upper range can hear the vocalizations. Listen carefully during the last 16 seconds. Just before he dips in to drink he makes his faint chip sound. He does this 7-8 times. Click here to play the video in a new window.
February 11, 2021
OK, I know that there aren't many birds in the following videos, but 2020 was a pretty lean year for my photo-birding endeavors, and I wanted something new to fill the gap. So for a while I plan to post time-lapse videos and scenery images here on my Home page. You can still find the bird pages through the menus at the left or by using the Search pane.
These videos were made with inexpensive WyzeCam security cameras, either the v2 Pan and Tilt or the newer v3, which does excellent infrared videos for catching deer and cloud activity at night. The camera is set to take one picture every three seconds, for three hours. This results in a 2-minute video of approximately 480 MB. I then edit the video and add a sound track and render it for the Web.
I mounted the WyzeCam v3 on a tripod and placed it on our deck, facing Dungeness Bay, overlooking Dungeness Spit with Victoria in the background, or on the ground next to the front porch facing the Olympics. Some of the videos are shot through the front window, which works well in some light conditions. The v3 records in color well after sunset, but eventually switches to infrared, which is basically black and white. With infrared, every bug or rain drop or snow flake in range produces a white streak. With time-lapse everything speeds up so it can get pretty frenetic. I find it mesmerizing if I can find the right music to go with it.
Looking North over Dungeness Bay towards Victoria
Infrared Videos
Clouds Over the Olympic Mountains
Snow
Landscaping